---
Here are the two ways that you can install a modpack on the Technic Launcher.
1. Search For It
The search bar on the left side of the launcher can be used to find the packs your heart desires. Just put a single term and the best packs of the platform that match will be brought to your launcher. Don't see what you want? Click the "Find more" link at the bottom to see more results, and use the second installation method.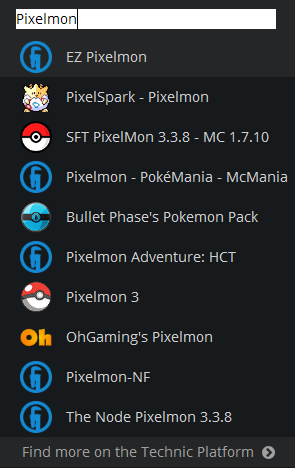 2. Install From the Platform
Just about anything can be put into the search bar, and the launcher will do its absolute best to turn that into an installed pack. Got a Platform API link? That'll work. You can copy the Platform API link to your clipboard by clinking on "Install this modpack" on the modpack Platform page. Then paste the URL into the Launcher's search bar. Almost anything will work, and we hope you'll use this advice to try out lots of packs you haven't seen before.
---
Have you seen Trending Modpacks? You can see it by selecting Browse Modpacks from the Discover menu at the top of the Platform, and it's a great way to discover cool packs you haven't heard of before. It changes all the time!