---
With the next upgrade in Minecraft and Minecraft mods progressing into 1.7.2, more and more mods are dropping support for Java 6.

Before upgrading Java make sure your computer supports it by checking here: http://java.com/en/download/help/sysreq.xml

Unlike Windows and Mac, major Linux distributions such as Ubuntu, Fedora or Red Hat Enterprise Linux offer OpenJDK as their default Java SE implementation.

32-bit vs 64-bit and what does it mean?

Long story short, you cannot run a computer with more memory than 4GB if you use 32-bit.

Technic recommends using 64-bit versions of Java (if supported). This allows more memory for Minecraft to use.

Questions or how to check your system can be found here:

Windows users: http://windows.microsoft.com/en-us/windows/32-bit-and-64-bit-windows

Mac users: http://support.apple.com/en-us/HT201948

Linux users: http://stackoverflow.com/a/246014

If you are needing to upgrade your Java install, grab a copy from here and follow these guides: http://java.com/en/download/manual.jsp

Windows Users:

Check what version of Java your running by going here: http://java.com/en/download/uninstallapplet.jsp

Or checking your installed programs by going to: Control Panel -> Programs and Features

and following this guide: http://java.com/en/download/help/windows_offline_download.xml


Mac Users:

You have special requirements for installing/uninstalling Java on your computers

Please read CLOSELY here: http://java.com/en/download/faq/java_mac.xml
If you cannot uninstall Java 6, install Java 7 and then follow thses steps:
Next start the Java Preferences app from /Applications/Utilities
Drag Java 7 to the top of the list like in the screenshot. This will make locally run Java applications use Java 7 instead of Java 6.
You can uncheck the Java 6 options if you do not want them to be allowed to run.
This section is for the Java runtime for local applications, and has nothing to do with the web plugin.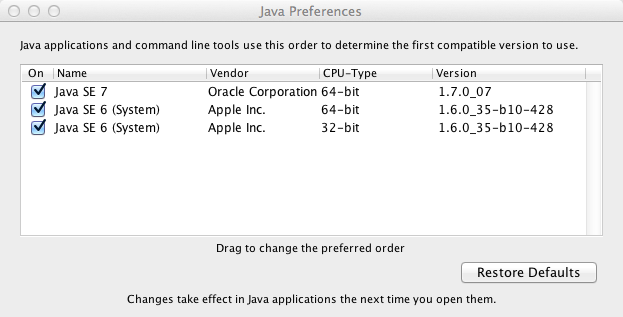 Linux Users:

Ubuntu and Fedora users: http://openjdk.java.net/install/

Red Hat, SUSE, Oracle, Oracle Enterprise, SLES users: http://java.com/en/download/help/linux_install.xml
Final Step:

After you have installed Java 7, check to make sure it is installed here: http://java.com/en/download/installed.jsp

Hope this helps clear things up!